Description:

The relationship between leadership and literature is described by the learned as that of soul and body. As Warren G. Bennis and James O'Toole argued, if fiction could be a best instructor of leadership and organizational behaviour, what best fiction could there be for leaders-in-the-making than the Rāmāyaṇa—a familiar epic that is highly enriched by pathos, moral profundity and noble simplicity—to learn the complexities of leadership?

It is against this backdrop that the present book attempts to combine and interlace the leadership/ management thoughts of modern management Gurus with that of the experiences of characters from the Rāmāyaṇa which have displayed streaks of leadership and present a perspective of what is and what is not effective leadership. The struggle of these unsparingly realistic epic characters, when read by business leaders, is likely to broaden their horizon of imagination and visualization of complexities embedded in leadership. It also affords better understanding of their own conflicts. Put together, all this paves the way for better leadership.


Target Audience:

Useful for management students, corporates, trainers, HR Professionals.
Contents:

Foreword
Preface
Introduction

Chapter 1: Truthfulness: The Need of Organizations
Chapter 2: Leadership's 'Toxic Tandem': Growing Angst in Downturn
Chapter 3: Decision Making: Drivers of Good Decisions
Chapter 4: Women Leaders: What Makes Them Successful
Chapter 5: Doing 'Wrong' Righter! Bane of Leaders
Chapter 6: Knowledge of Followers: Does It Matter for Leaders?
Chapter 7: The Art of Leading: Poet Valmiki's Prescriptions
Chapter 8: Winning Leaders: How They Make Great Calls
Chapter 9: Leading the Followers: The Basic Truisms
Chapter 10: Leadership Duo: Multiplies Effectiveness
Chapter 11: Organizational Loyalty: How Leaders Are to Nurture It
Chapter 12: Hanuman: The Definition of Active-Loyalist
Chapter 13: Character: The Epitome of Leadership

Appendix: Valmiki Rāmāyaṇa (Storyline)
Index
Business Manager book review
Magazine - 01/Nov/2016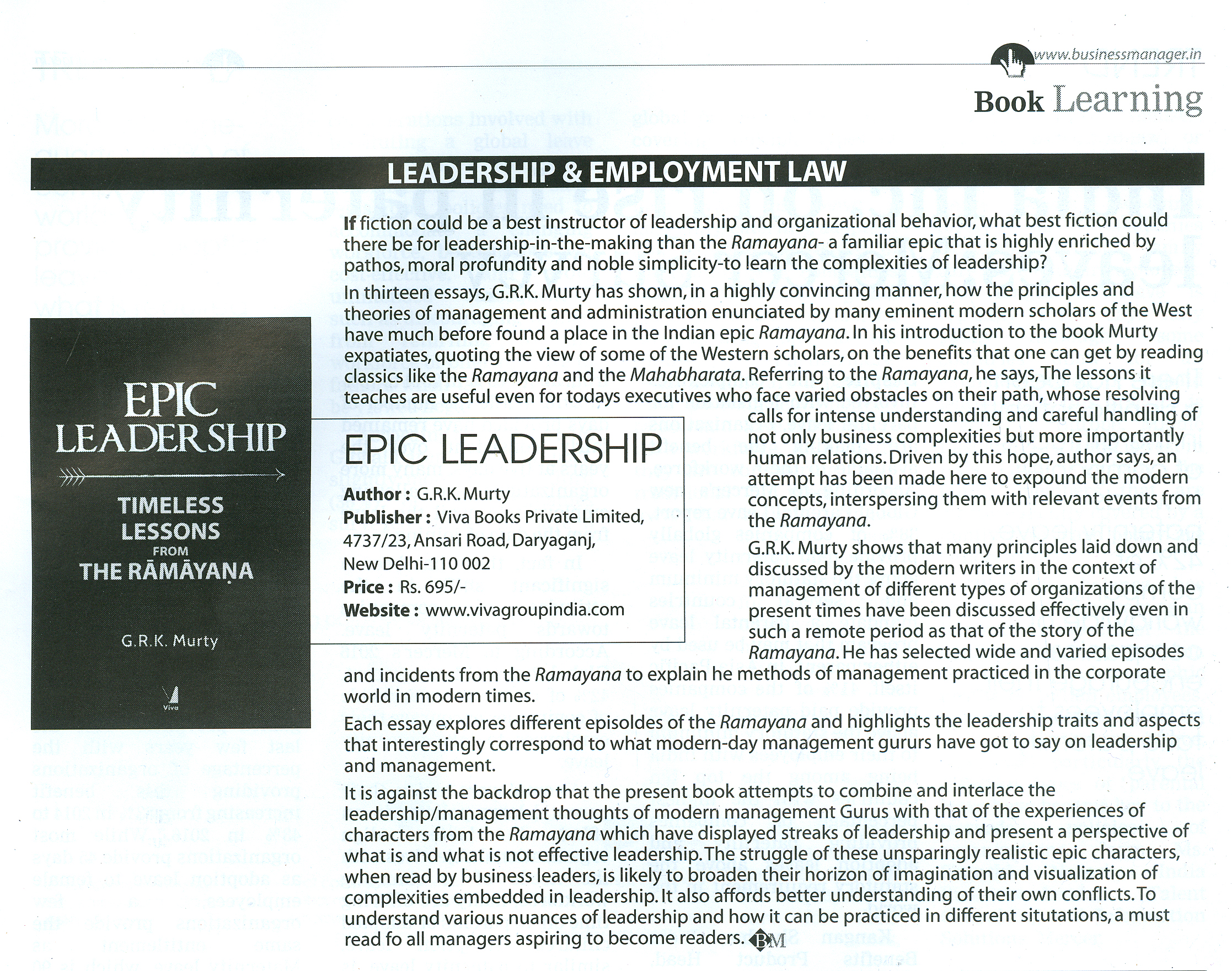 About the Author:

Gollamudi Radha Krishna Murty, a postgraduate in Agricultural Sciences, is currently working for the IUP Publications (A Division of ICFAI) as its Managing Editor. Earlier, he worked at Andhra Pradesh Agricultural University, Rudrur, for five years as Research Assistant (Entomology) and later with the Bank of India for twenty-six years. During his stint in the bank, he worked for five years as Faculty Member at its Management Development Institute, Andheri, Mumbai. In 2000, he took voluntary retirement as Assistant General Manager from its Head Office.

He has published papers in Science, Banking, Management and Insurance Journals, besides presenting papers at National and International seminars on banking and insurance. He has authored six books—Soft Skills for Success; Currency Market Derivatives; Reflections on Free Market: Economy, Capital Markets, Banking, Forex Markets and Governance; HRM in Knowledge Economy; Banking and the Law; and Leadership: The Shakespearean Way—and edited three books: Forex Markets: Exchange Rate Dynamics; Derivatives Markets – Vol; and Infrastructure Projects: Current Financing Trends. He has also co-edited the book Select Issues in Macroeconomics: A Quantitative Approach. A collection of Telugu short stories translated by him, Selected Stories: Tripuraneni Gopichand was published by CP Brown Academy, Hyderabad, in 2010.