Description:
Mankind's struggle to perform well is universal. It is, however, more intense in a business organization, for the decisions made and executed by its employees impact the wealth of stakeholders. Driven by this concern, corporates pay more attention to hiring the right kind of talent. The growing knowledge economy has only made the need for competent employees that much intense. HR has thus emerged as the differentiator in competitive marketplaces.
In a job market surcharged with competition, improving soft skills is the only safe bet for employees either to seize a right job that pays well or to advance in career. This book, through a carefully structured framework that is seasoned with suitable examples, explores how the young and upcoming managers can master their understanding of Emotional Intelligence and in turn cultivate the essential soft skills that better their performance at workplaces, and also be a little happier.
Target Audience:
For young & upcoming managers who want to master their soft skills.
Contents:
PART I: KNOW THYSELF
1. Soft Skills: What and Why • 2. Emotional Intelligence: The Indian Alternative • 3. Know Thyself to Brand Your ?Personality? • 4. Get Ahead of Yourself
PART II: KNOW THY ROLE
5. How Critical Is Role Perception • 6. What Makes Your Role Tick • 7. Creativity at Work • 8. Wanna Be Happy at Workplaces
PART III: COMMUNICATION: PERSONALITY DIFFERENTIATOR
9. What Makes Communication Effective • 10. Communication Is More Than Getting the Message Across • 11. Changed Job-Market: The Art of Successfully Navigating Through Job Interviews • 12. Cultivating the Art of Listening • 13. Negotiation for a ?Win-Win? Outcome
PART IV: JOB-FULL OF RELATIONSHIPS
14. Life: A Winning Web of Relationships • 15. Assertive Behavior • 16. Group Dynamics • 17. Conflicts Can Lead to Progress
PART V: LEADING PEOPLE
18. Decision Making: Challenges • 19. Counseling Fosters Employees? Growth • 20. Mentors Live Forever • 21. Leaders and Leadership: Essentials
Bibliography • Index
Business Manager: Self Management
Magazine - 01/Aug/2016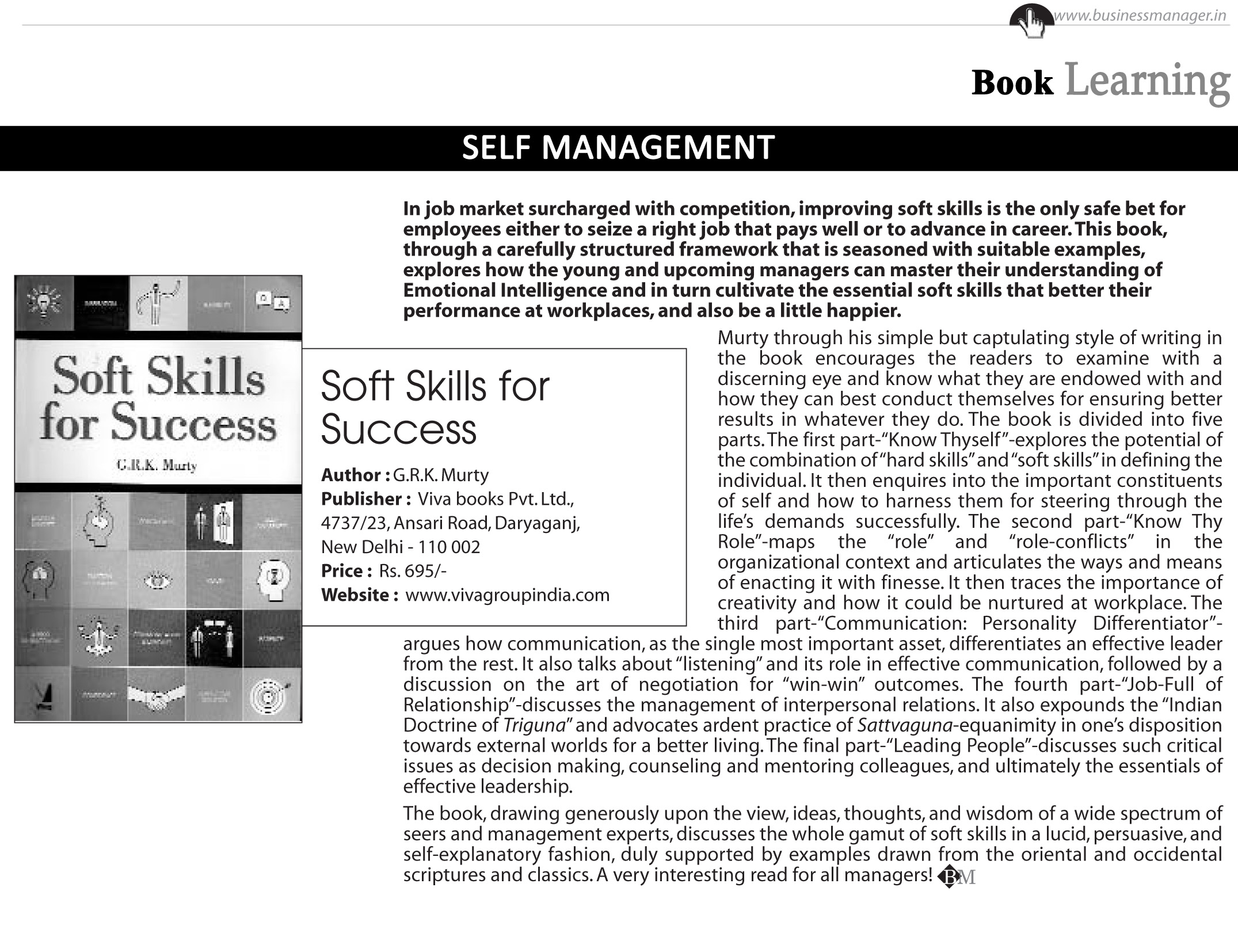 About the Author:
Gollamudi Radha Krishna Murty, a postgraduate in Agricultural Sciences, is currently working for the IUP Publications (A Division of ICFAI) as its Managing Editor. Earlier, he worked at AP Agricultural University, Rudrur, for five years as research assistant (Entomology) and later with Bank of India for 26 years. During his stint in the bank, he worked for five years as Faculty Member at its Management Development Institute, Andheri, Mumbai. In 2000, he took voluntary retirement as Assistant General Manager from its Head Office.
He has authored five books - Currency Market Derivatives; Reflections on Free Market: Economy, Capital Markets, Banking, Forex Markets and Governance; HRM in Knowledge Economy; Banking and the Law; and Leadership: The Shakespearean Way and edited three books: Forex Markets: Exchange Rate Dynamics; Derivatives Markets - Vol. 1; and Infrastructure Projects: Current Financing Trends. He has also co-edited the book Select Issues in Macroeconomics: A Quantitative Approach.