Reviews:
Dr. Prasad has done a great service to the education field in bringing out this book covering various aspects of HRM in management schools. I am sure this book will be well appreciated and found very useful by all heads of institutions and universities."
- Prof TV Rao (From the 'Foreword' of the book)
"The book has been excellently brought out"
- Prof Sharu S Rangnekar, Renowned Management Guru & Author

"Dr. Prasad has collected a great deal of information on various HR practices followed in business schools and comes out with guidelines for their good governance."
- Shri M Gopalakrishna IAS (Retd) Renowned Management Expert & Orator and Former Director IPE, Hyd.

"Topic has been dealt with in scholarly manner and some very important issues have been brought out, and I have no doubt that the book should become a 'text book' for all the providers of uality education."
- Maj Gen (Retd) DN Khurana AVSM, Former DG, AIMA.

"The book is thought provoking and raises a number of issues and it would be of great help to all of us who are in the business of management education."
- Prof RK Mishra, Director, IPE, Hyd
"Interested in getting a taste of the ubiquitously popular MBA? Then you'll want to read The Business of HR in Business Schools by management guru VRK Prasad"
- Indian Express
Description:
In certain ways the business school produced people are responsible for economic upliftment of the nations or downturn of the economies as shown by the recession a couple of years ago. Whether these are business schools or not, it is the education systems and the way they are managed that determine the efficiency and effectiveness of the human resources in a country.
HRM is taught in these institutions as a part of the MBA curriculum or as a separate stream of specialization. When it is offered as a stream of specialization, these institutions produce HR managers who are supposed to influence and impact the lives of numerous employees who serve different organizations in various ways.
The credibility of management schools is often determined by the extent to which they practise what they preach. Hence in a subject like HRM or HRD, the students and participants become extremely sensitive if the institution where they study does not have right practices and does not attempt to practise what they preach.
This book covers various aspects of HRM in management schools. Recruitment, selection, performance appraisal, development and culture building aspects.
Target Audience: Policy makers in Management education in India, Management of Business Schools, Students of Management.
Contents:
Foreword • Preface • Introduction • Abbreviations • PART I: An Overview of Management Education in India • An Approach to HRM Practices in Business Schools • The Road Traversed • PART II: Recruitment and Selection • Training and Development • Research and Consultancy • Performance Management • Compensation • Morale, Motivation and Organizational Climate • Retention and Separation • Leadership and Governance • Conclusion
Indian Management
Magazine - 01/Jul/2011

Indian Express
Newspaper - 28/Apr/2011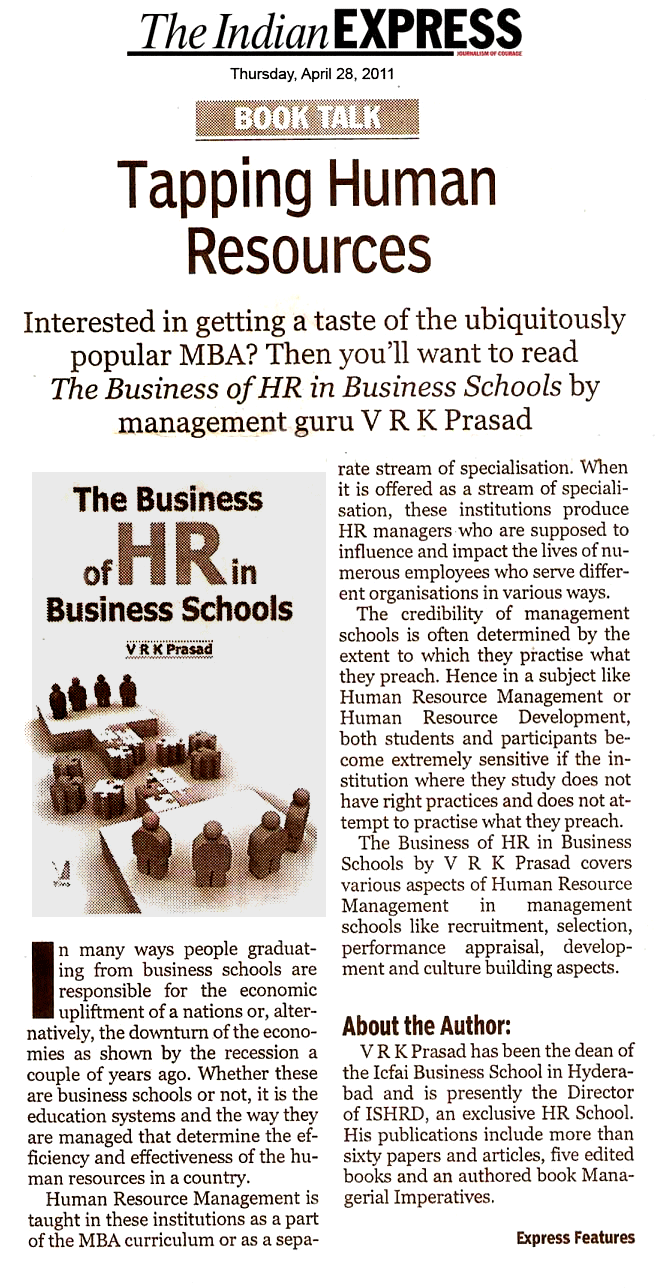 About the Author:
Dr V.R.K. Prasad has Masters degrees in business administration and environmental sciences. Trained as an electronics engineer, he also holds postgraduate qualification in personnel management and industrial relations, apart from an M.Phil in labour studies. He received doctoral honours in business management from Osmania University. He served in the telecom branch of the Indian Army for 27 years, followed by a stint in the industry and a long period of academic research. His publications include more than sixty papers and articles, five edited books and an authored book Managerial Imperatives. Dr Prasad has been the Dean of Icfai Business School in Hyderabad and is presently the Director of ISHRD, an exclusive HR School.