Description:
Oxford of the East: Aligarh Muslim University (1920-2020) Centenary Commemorative Volume consists of 17 articles by scholars from the USA, UK, Portugal, Canada and India. The volume brings into sharper light the evolution, history and accomplishments of this great seat of learning. Established initially as Madarsatul Uloom in 1875 by the visionary educationist Sir Syed Ahmad Khan (181 7-1 898), it grew into the Muhammadan Anglo-Oriental College in 1877 and was elevated as the Aligarh Muslim University (AMU) in 1920. The AMU has been consistently ranked in the last decade among the top universities in the country. It has imparted life skills and the highest academic degrees to generations of underprivileged students and thus achieved the remarkable feat of social engineering. Renowned for its halls of residence, it forges bonds of lifelong cordial relations among thousands of its students, many of whom have made a mark the world over. Also, it has all along been an outstanding identity marker of the Indian Muslims who have been engaged in nation building in their own ways, from President and Vice-Presidents of lndia to FNAs, Padma and Sahitya awardees, public figures, legal and literary luminaries, sportspersons and artists. The AMU stands out as a living example of the glorious secular and academic credentials of the country.
Target Audience:
This book useful for people interested in education, history and for the general public.
Contents:
Foreword
Preface
Acknowledgement
Introduction
Contributors
Chapter 1. Masculinity and the Muslim University in the 1940s (Amber H. Abbas)
Chapter 2. Female Education: Hundred Years of Women's Presence on the Aligarh Movement Bandwagon (Faiza Abbasi)
Chapter 3. Green Campus: Hundred Years of Acquiring, Keeping and Building Sustainable Premises (Faiza Abbasi)
Chapter 4. A Brief History of the MAO College (Rahat Abrar)
Chapter 5. Justice Mahmood and the Administration of Muslim Law in British India (Alan M. Guenther)
Chapter 6. AMU: An Unfinished Journey (Tariq Hasan)
Chapter 7. Shaikh Muhammad Abdullah (1874-1965) and Muslim Female Education Movement (Gulfishan Khan)
Chapter 8. The Untold Story of Madrasatul Uloom (M. Shafey Kidwai)
Chapter 9. Quranic and Islamic Studies at the Aligarh Muslim University: An Assessment (Abdur Raheem Kidwai)
Chapter 10. The Campaign for a Muslim University, 1898-1920 (Gail Minault and David Lelyveld)
Chapter 11. Politics, Science, and Education: Sayyid Ahmad Khan and the Role of Aligarh (Carimo Mohomed)
Chapter 12. Aligarh and the Education of Indian Muslim Women: From Colonial Beginnings to Contemporary Empowerment (Geoffrey P. Nash)
Chapter 13. Blending Tradition with Modernity: Sir Sayyid's Stance on Legal and Scientific Issues at the Aligarh Muslim University (Tauseef Ahmad Parray)
Chapter 14. Aligarh's Forgotten Scientific Society (est. 1864) (Sarah A. Qidwa)i
Chapter 15. Like Seeds in a Garden: Sayyid Ahmad Khan and the Idea of Aligarh (Charles Ramsey)
Chapter 16. Poetic Resonance of the Message of Sir Syed Ahmad Khan and the Aligarh Movement: Translating 'Syed ki Lauh-e-Turbat' and 'Talba-e-Aligarh ke Naam' by Iqbal, and 'Tarana-e-Aligarh' by Majaz (Aysha Munira Rasheed)
Chapter 17. Growing up an Alig: Education and the Women's World of Friends at Abdullah Hall, Aligarh Muslim University (Yasmin Saikia)
Appendix: Prominent Alumni of Aligarh Muslim University (Rahat Abrar)
The Inquilab (Aligarh)
Newspaper - 29/Sep/2020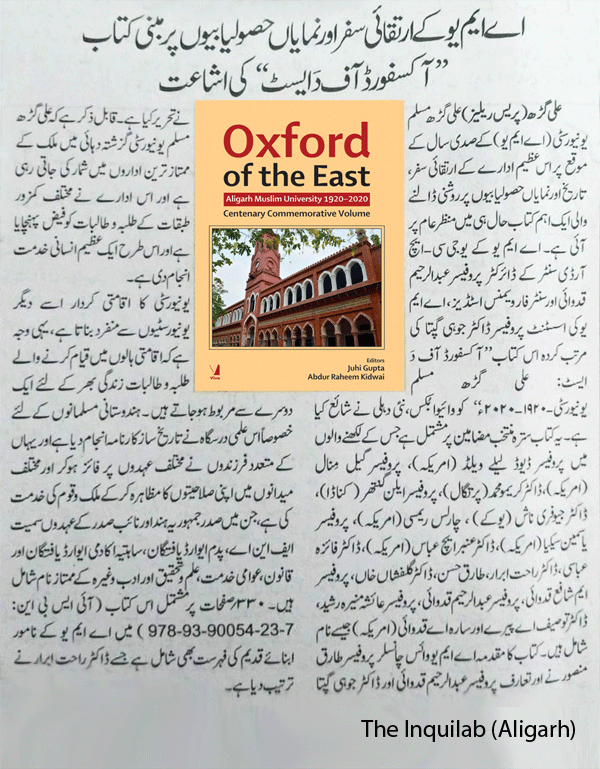 indiaeducationdiary.com
Portal - 29/Sep/2020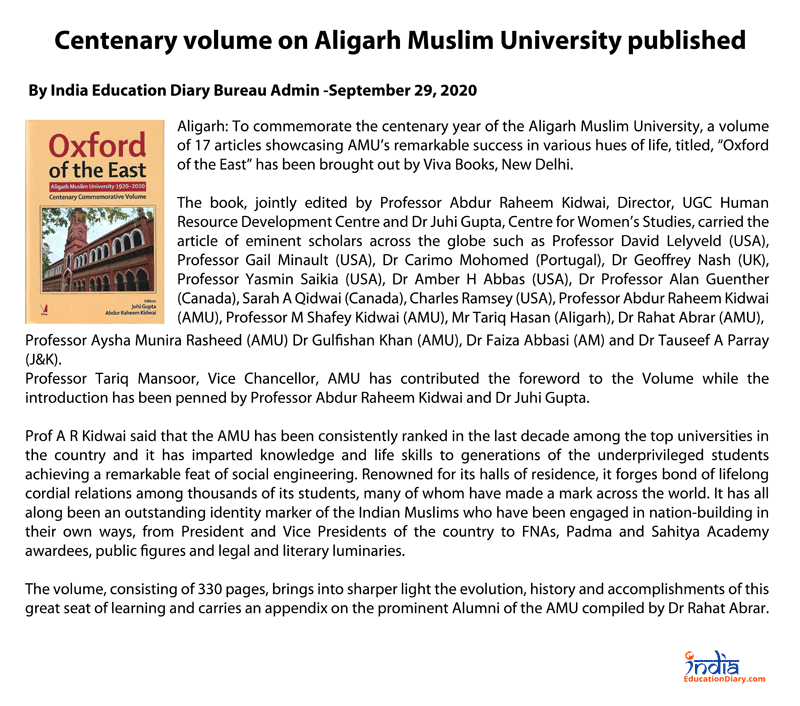 About the Editors:
Juhi Gupta is Assistant Professor at the Centre for Women's Studies, Aligarh Muslim University, Aligarh. She completed her Ph.D. from Jamia Millia lslamia on the influence of fatwas and feminist consciousness among Muslim women. Her areas of specialization are issues of gender, women and other marginalized communities. She has organized a number of workshops, seminars and other programmes on women's issues, gender sensitization and feminist research methodology. She has served as a resident warden in Abdullah Hall, AMU, a member of the Internal Complaints Committee (committee against sexual harassment and for gender sensitization), National Assessment and Accreditation Council's (NAAC) team and the MHRD Gender Champion Scheme, AMU. She has publications in national and international journals and has authored The Future of Indian Muslim Women: Fatwa vs Feminism (2012), co-authored a reference book NTA UGC-NET Women's Studies (2019) and co-edited with Professor Abdur Raheem Kidwai Muslim Woman: What Everyone Needs to Know (2019).
Abdur Raheem Kidwai is Professor of English and Director of the UGC Human Resource Development Centre and K.A. Nizami Centre for Quranic Studies, Aligarh Muslim University, Aligarh. He has two Ph.D.s to his credit in English: one from Aligarh Muslim University and the other on Lord Byron's Orientalism from the University of Leicester, UK. He has been the Honorary Visiting Professor/Fellow at the Department of English, University of Leicester. He has delivered lectures on Literary Orientalism at the Universities of Oxford, Mauritius, Sunderland and Leicester. His articles, notes and reviews have appeared in Byron Journal, Notes and Queries, Journal of Islamic Studies and Muslim World Book Review.
Some of his books are:
Higher Education: Issues and Challenges

(2011)

Literary Orientalism: A Companion

(2013)

Perspectives on National Integration: A Trilingual Book: English, Hindi, Urdu

(2013) co-edited with Mirza Asmer Beg

Believing and Belonging: Critical Essays on British Muslim Fiction

(2016) co-edited with M. Asim Siddiqui

New Directions in Higher Education

(2016)

Orientalism in English Literature: Perception of Islam and Muslims

(2016)

Criticism and Counter Criticism

(2017) co-edited with Mohammad Asim Siddiqui

Sir Syed Ahmad Khan: Muslim Renaissance Man of lndia

(2017)

God's Word, Man's Interpretations

(2018)

Writing Skills: Methods and Practice

(2019) co-edited with Sherin Shervani'

Muslim Woman: What Everyone Needs to Know

(2019) co-edited with Juhi Gupta

What is in the Quran? Message of the Quran in Simple English,

Revised & Expanded Edition (2019)