Description:
"Man can endure earthquake, epidemic, dreadful disease, every form of spiritual torment,"Tolstoy once said, "but the most dreadful tragedy that can befall is and will remain the tragedy of the bedroom."
The Apple of Discord looks into ten of the most difficult marriages on record —some fictional, some not —culminating in Gandhi's union with the woman who taught him the practice of non-violent resistance by opposing him. Other investigated unions include that of Socrates and the notorious shrew Xanthippe, and perhaps the most documented of all marriages, Tolstoy's own, a war of attrition that came to an end only when the sage took to the road at the age of eighty-two and found refuge in death's waiting arms.
In the marriages probed in The Apple of Discord the wise behave like fools, men and women become bond-slaves of the ridiculous, and all risk losing understanding of themselves. In all cases marriages prove an incomparably revealing mirror of human life.
Target audience:
General readers, academics and students of Literature.
Contents:
Introduction: Celibates and Husbands • Strategist and Tactician: Zeus and Hera • Philosopher and Fishwife: Socrates and Xanthippe • Arch-Woman and Misogynist: The Wife of Bath and Her Fifth Husband • Venom and Anti-Venom: The King and Shahrazad • Conflict and Concord: Oberon and Titania • Stake and Rose: Adam and Eve • Theory and Practice: James and Harrier Mill • Seller and Sold: Michael and Susan Henchard • Two Bears in One Den: Tolstoy and Sofya Andreyevna • Victor and Vanquished: Gandhi and Kasturba
Organiser
Newspaper - 19/Jul/2009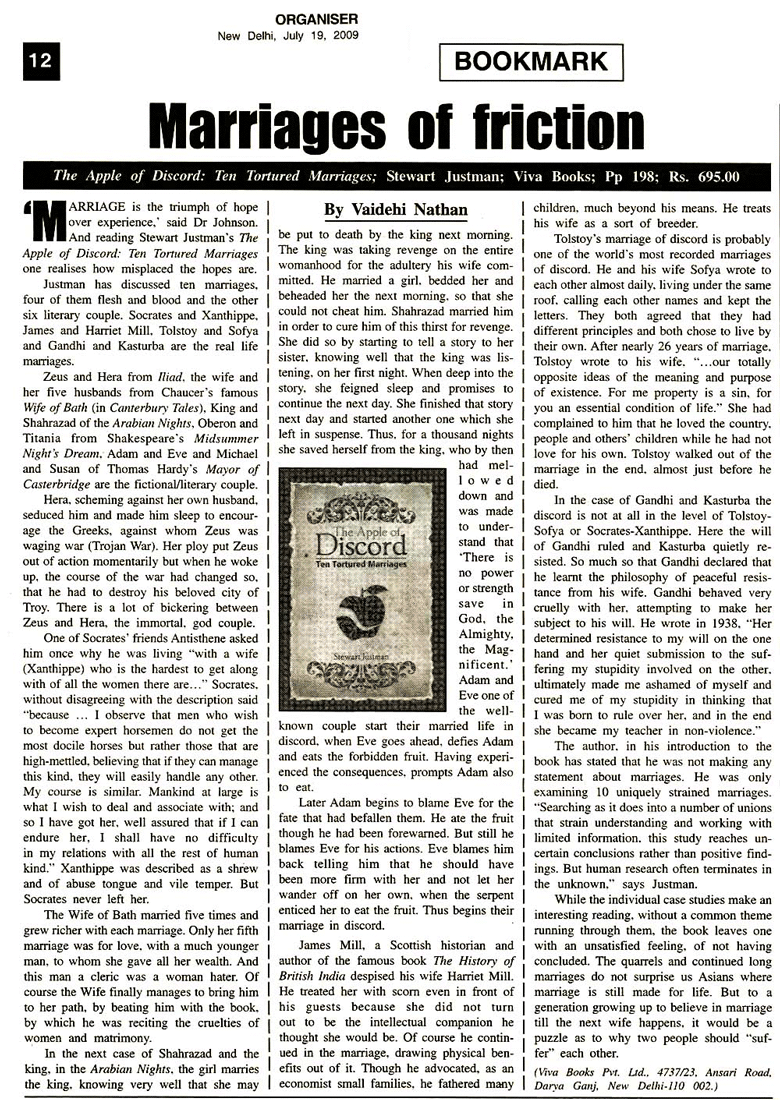 Covert Magazine
Magazine - 01/Jun/2009
About the Author:
Stewart Justman was born in New York and received a Ph.D. in English Literature from Columbia University in 1976. He has written many articles and books, among them Seeds of Mortality, a meditation on cancer, which received the PEN Award for the Art of the Essay in 2004, and Shakespeare: The Drama of Generations, published in India in 2007. Justman's Fool's Paradise: The Unreal World of Pop Psychology received the Popular Culture Association's Ray and Pat Browne Award for the best book by a single author in 2005. He directs the Liberal Studies Program at the University of Montana and is married, with two children.