Also Available in Kindle Edition on Amazon.in for Rs. 125.00 - http://amzn.to/2FTrrJH
Description:
How to be happy here and everywhere
We are all born happy. Look at a baby giggling or a child playing, and that is proof enough. Happiness is our birthright and we should all be naturally happy.
But just look at the world or watch a newscast, and we know that the world has lost its natural flair to be happy. Somewhere, in the process of growing up, most of us have learnt unhappiness.
Happiness: Here and Everywhere helps to unlearn whatever is not serving you and gets you back to a true state of happiness. It enables you to understand the various factors of unhappiness like depression, stress, lack of purpose, etc. and offers simple and effective action plans to enable you to live happy naturally ... as you were designed to do.
On your journey of self-discovery and self-mastery, the book will reveal the truth of what really makes your heart sing and what happiness is all about.
Remember, real happiness lies in freedom and fulfilment in every moment and not only when the circumstances favour us. This book has the key to unlock joy any time.
Are you ready to be happy ... here and everywhere?
Target Audience:
General public.
Contents:
Foreword • Deal with Depression • Why were you Born? • Power of a Smile • Stop Judging • De-Stress Yourself • What is Unconditional Love? • Manage your Expectations • Go with the Flow • True Humility • What is Real Contentment? • Warmth of Friendliness • We Teach People How to Treat Us
The Hindu- mention in new arrivals
Newspaper - 06/Jan/2015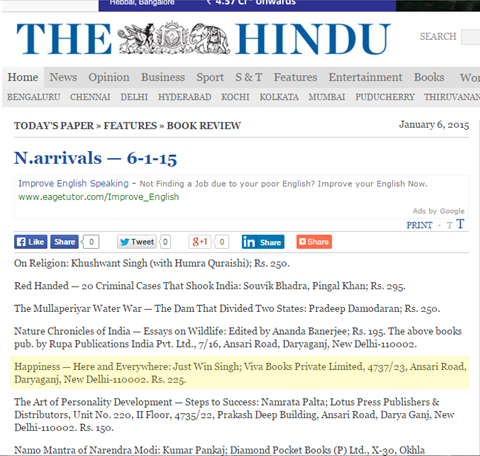 About the Author:
Just Win Singh, runs the Institute of Happiness in Vadodara, India. He is a keynote speaker and presents seminars in the field of happiness and balanced living for top companies across the globe. The ?Be Happy? course designed by him has been a great success internationally. This book is in line with that course. For more information log on to: www.instituteofhappiness.com