Reviews:
"I have always appreciated Professor Ashok Vohra's insights into the moral, spiritual, social, cultural and religious philosophical issues confronted by the common person and scholars alike. His attempt to present these complex and abstract ideas in a simple and lucid language easily comprehensible to the laity is commendable. His arguments and explanations of profound abstruse concepts are made intelligible with ease while retaining their essential meaning. I am therefore delighted that these explorations are now available to readers in the form of a book, where they can be readily consulted. Given the encyclopedic scope of its coverage, the book will appeal to readers of all age groups and inclinations. I am sure the readers will find it hard to put the book down on account of its absorbing interest."
—Arvind Sharma, Birks Professor, McGill University

"This highly readable book is suitable for the intelligent layperson. It is a lucid and sympathetic exposition of many of the fundamental ideas underlying Indian culture and philosophical thought. The author makes interesting comparisons and contrasts with Western thought."
—Vinit Haksar, Edinburgh University

"'Know yourself, constantly', 'There is nothing superior to being a human' and 'Speak the Truth and practice Dharma' these three dictums summarise the Indian spiritual and philosophic discourse. The perceptive and penetrative mind of Professor Ashok Vohra so lucidly brings this discourse to the contemporary level. It opens many doors of thought."
—Acharya Shrivatsa Goswami, Director, Sri Chaitanya Prema Samsthan, Vrindavan

Description:
One of the reasons for the general impression that philosophy is a challenging subject is that it deals with the fundamental axioms, presuppositions and starting points of all branches of knowledge, including religion. It deals with questions like, 'What is a person, what is the essence of person?' 'Is a person essentially a soul – ātman or brahman or a jīva or none of them?' 'Is the world real or is it merely an appearance?' 'Is it permanent or ever-changing?' 'Why do bad things happen to good people?' 'What is morality and why should one be moral?' 'What is it to be spiritual, does it differ from being religious or being moral?' 'Can there be just one or varieties of rationality to judge the merits of an argument or an act?' 'What is nirvāņa, mokşa, kaivalya and the ways of attaining these states?' 'What is the philosophy of ecology?' 'What is the difference between need and greed?' Man, Morals and Self: A Philosophical Perspective seeks answers to these questions from Indian and Western philosophical and religious, including Hindu, Buddhist and Jaina, standpoints. It not only elucidates and examines in simple and lucid language the concepts used in the Vedas, Upanişads, texts of Buddhism and Jainism but also explains the key issues raised by modern thinkers like Swami Vivekananda, Swami Dayananda, Swami Sivananda, Sri Aurobindo, Mahatma Gandhi, Rabindranath Tagore and Jawaharlal Nehru, and contemporary thought leaders like Sri Sri Ravi Shankar, Swami Muniji et al. The book will be useful in understanding the basic notions of philosophy and religion by the lay readers and specialists alike; it will also benefit those who start reading philosophy for competitive or other examinations.

Target Audience:
The book will be useful in understanding the basic notions of philosophy and religion by the lay readers and specialists alike; it will also benefit those who start reading philosophy for competitive or other examinations.
Contents:
Acknowledgements • Introduction • TERMS AND TENETS • Worship and Sacrifice • Tīrtha – What does it mean? • Inadequacy of Language • The Concept of the Body in the Indian Tradition • The Gentleman and the Wicked • True Knowledge • Controlling the Mind • Who is a True Guru? • God, the Problem of Evil and the Law of Karma • Pragmatism – Its Meaning and Varieties • RATIONALITY AND ITS VARIETIES • Varieties of Rationality • Reason in the Indian Tradition • Indianness: Its Unique Features • NATURE OF SELF AND BRAHMAN • The Nature of Person • Man's Downfall – Its Cause and Remedy • The Quintessential 'I' • Cosmozen – What does it mean? • Nirguņa and Saguņa Brahman • The Positive Attributes of Brahman • Rāmānuja's Viśişţādvaita: Identity in Difference • Self-knowledge: The Key to Understanding Meaning of Life • HINDUISM, HOSPITALITY AND HUMAN RIGHTS • Atithidevo Bhava: On Hospitality • Human Rights: Indian and Western Discourses • Justice and Equality • Lessons from Hinduism After 26/11 • SOUL AND ITS LIBERATION IN JAINISM • Jaina Cosmogony • Human Effort, Liberation and Jainism • Jainism and Relativism • Equanimity of the Soul: The Essence of Jainism • BUDDHISM AND NEO-BUDDHISM • Silence of the Buddha • Pratītyasamutpāda: The Central Teaching of Buddha • Karuņā: The Cardinal Virtue of Buddhism • Buddhism and B.R. Ambedkar • PLACE OF WOMEN IN INDIAN CULTURE AND TRADITION • Status of Women in Indian Society • Women, Foreigners and Hinduism • Ardhanārīśvara: Unity of the Masculine and the Feminine • LOVE: EPHEMERAL AND ETERNAL • Love: The Moving Force • Love and Lust • Criteria of True Love • GOD AND RELIGION: CONTEMPORARY VIEWS • Nehru on God and Religion • Nehru on Religion and Scientific Humanism • Nehru's Changing Conception of Religion • Gandhi on Religion • Radhakrishnan on I and the Other • RELIGIOUS PLURALISM AND METHOD OF CONFLICT RESOLUTION • Tagore's Spiritualism • Radhakrishnan on The Religion We Need • Hinduism and Religious Pluralism • True Nature of Religious Experience • Method of Conflict Resolution in Religion • RENAISSANCE IN HINDUISM • Guru Nanak Dev and Vedānta • Scientific Temper and Swami Dayananda • Swami Dayananda: Philosopher, Revolutionary and Visionary • Evolutionary Philosophy of Sri Aurobindo • Flow but do not go Astray • MATERIALISM, HAPPINESS AND ETERNAL LIFE • Materialism and Happiness: Indian View • Need and Greed • Faustian Man and Our Environment • Action without Desire • Death: Gateway to Perfection • Bhagavadgītā and Renunciation • ON RĀMĀYAŅA • Rāmāyaņa: Its Different Versions • God's Abode • Rāma's Recipe for Victory • FESTIVALS: SECULAR AND RELIGIOUS • World Philosophy Day • Baisākhī • Holī: The Festival of Gay Abandon • Deepāvalī: The Celebration of Unity in Diversity • Index
The Tribute: Stairway to Spirituality
Newspaper - 15/Mar/2015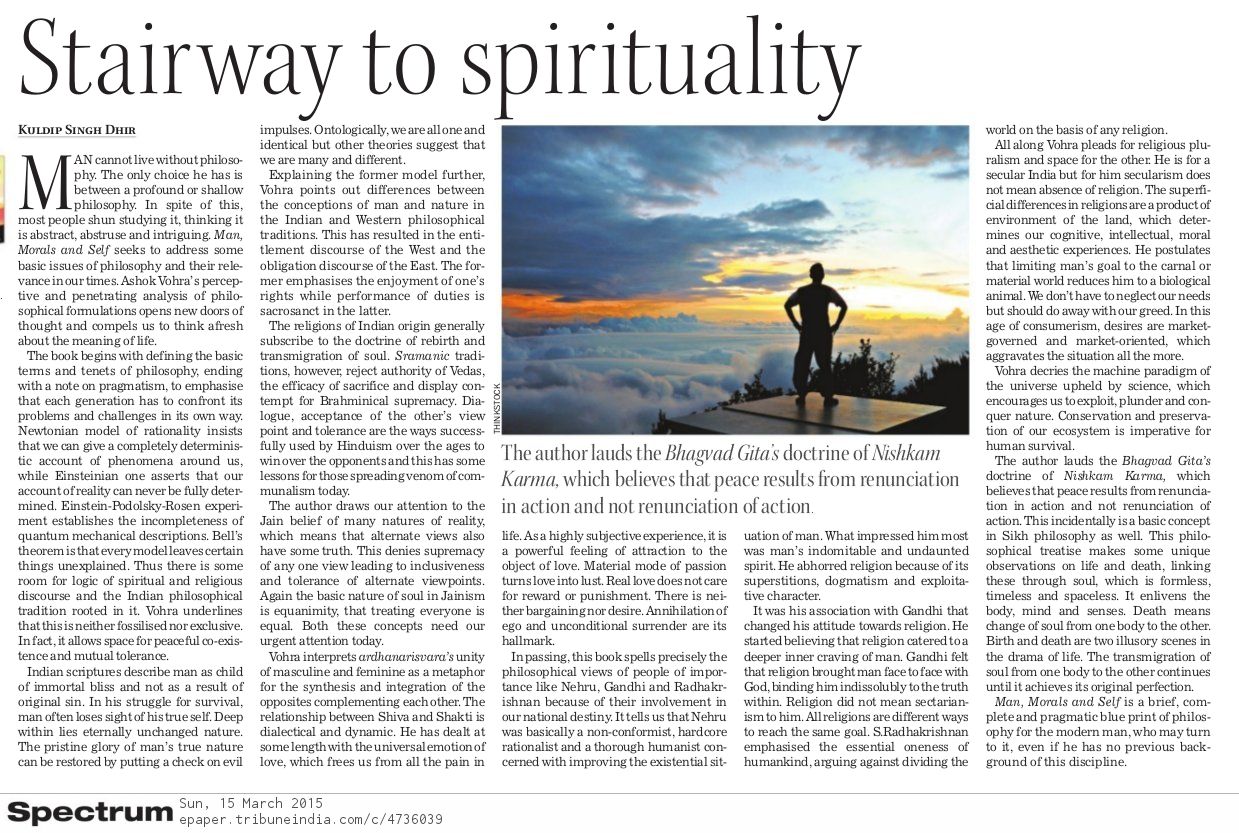 About the Author:
Ashok Vohra, Professor of Philosophy, Delhi University, has published more than 160 research papers and articles in national and international research journals, anthologies and newspapers. He taught for over a decade (1975-1986) at St Stephens College. He was the Member Secretary of Indian Council of Philosophical Research from 1995 to 1998, and Director of Gandhi Bhawan, Delhi University from 1998 to 2000. He was the Vice-president of UNESCO's Asia Pacific Philosophy Education for Democracy (APPEND) for a term of two years from January 1999 to December 2000. He is the author of Wittgenstein's Philosophy of Mind (London, Sydney, 1986; reissued Routledge Revivals, London, New York, 2014) and is the co-author of Radhakrishnan: His Life and Ideas (New York, 1990). He has translated into Hindi Ludwig Wittgenstein's Philosophical Investigations (Delhi, 1996); On Certainty (Delhi, 1998); Culture and Value (Delhi, 1998); and Radhakrishnan Memorial Lectures 1996 and 1997 (Shimla, 2000). He has co-edited The Philosophy of K. Satchidananda Murty (Delhi, 1996) and Dharma: The Categorial Imperative (Delhi, 2005). He has delivered special lectures in various Universities in India, USA, UK, Austria, Japan, Thailand, Kenya, North Korea, South Korea, Lithuania, Greece, Czechoslovakia, and Canada. He is on the editorial board of Humanitas Asiatica; Journal of the Indian Council of Philosophical Research (JICPR); Suvidya: Journal of Philosophy and Religion, Bangalore; Indian Journal of Analytic Philosophy, and Unmilan. He is on the Advisory Board of Dialalato Corde. He writes regularly for the Times of India, Hindustan Times, The Tribune, and The Pioneer on philosophical themes with a view to popularising them.