Description:
Writer and filmmaker M.T Vasudevan Nair, popularly known as "MT", is one of the most illustrious cultural icons of modern Kerala. Chronicling the decadence of a magnificent and uninterrupted agrarian civilization in the lush countryside of central Kerala, his novels and short stories won him the Jnanpith and several central and state Sahitya Akademi awards. MT's work as screenwriter and director is Indian cinema at its finest.
To readers in English this book of memoirs and stories offers a rare glimpse into the mind of a literary master who recollects the people, places and ideas that inspired his stories. Featured in this collection are anecdotes, accounts of journeys, a homage, meditations on the literary craft, personal photographs and such classic stories as "The Soul of Darkness" and "Elder Sister Oppol".
Target Audience:
MT fans, academics & students in literature & film studies.
Contents:
Memories: A moment of truth • Bear with me, mother • A story is born • Where stories are hidden • The Thumba flowers that sought refuge • When it rains... • The festival season • When the Kannanthali flowers used to bloom... • The temple tanks of Kumaranallor • Those who told me stories • An examination in Victoria College • The end of the play • A place for books to live in • The nila river I remember • The second footfall • The man who helps people die • Stories : Seeds • A birthday remembered • In your memory • Firecrackers • Vision • The soul of darkness • Karkitakam • Elder sister oppol • Glossary
Businessworld
Magazine - 25/Oct/2010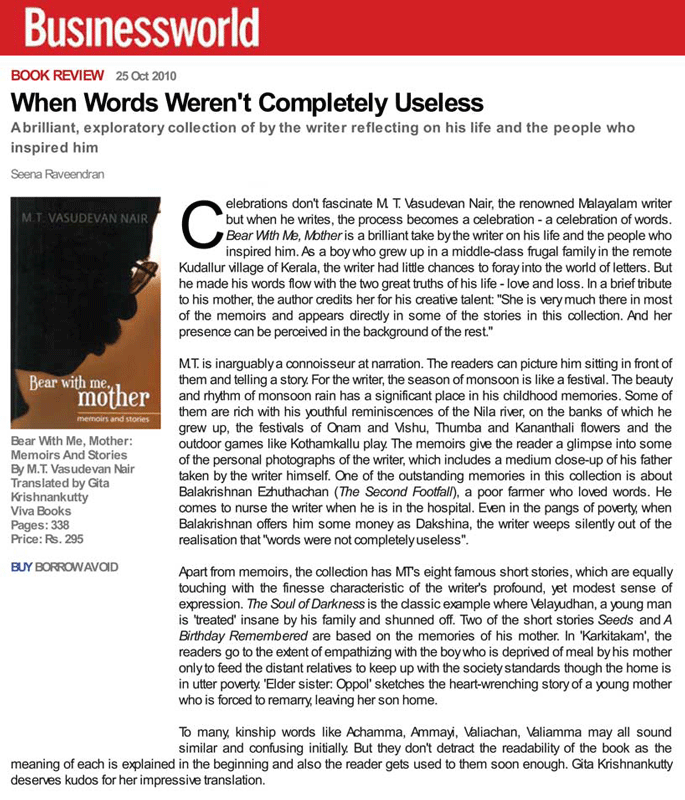 The Hindu
Newspaper - 06/Jul/2010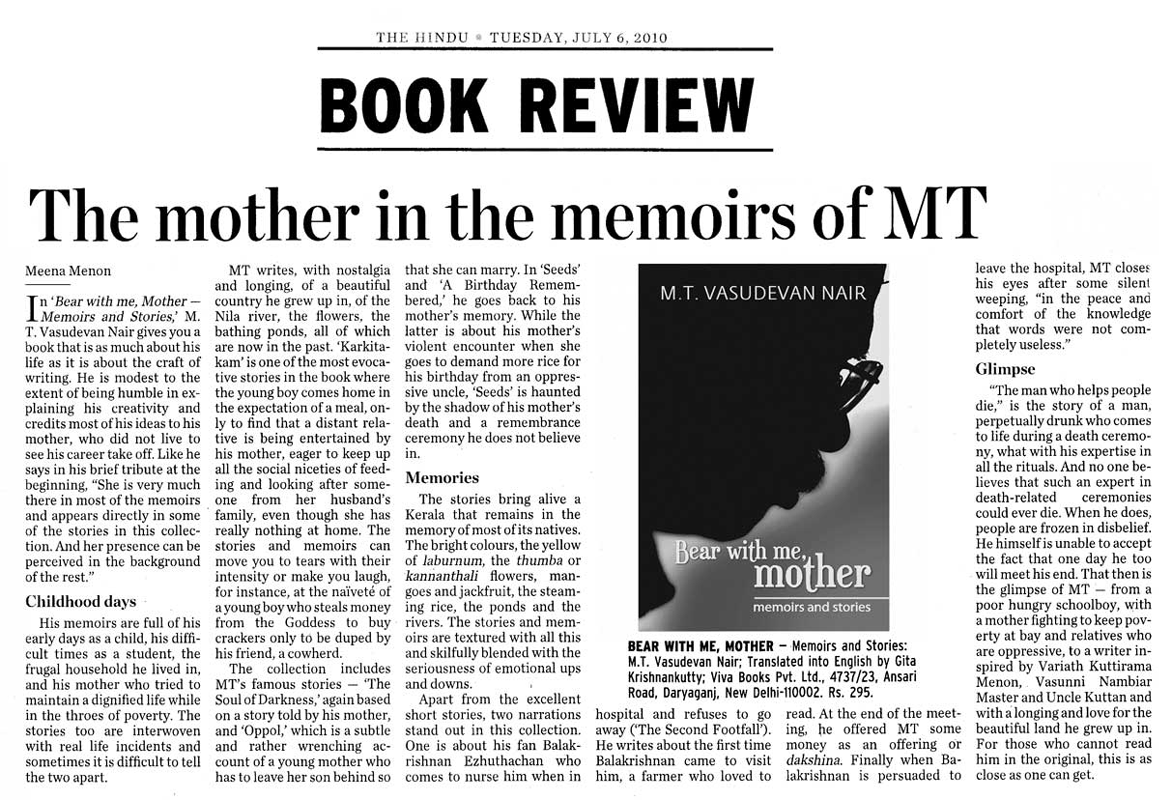 The Hindu
Newspaper - 11/May/2010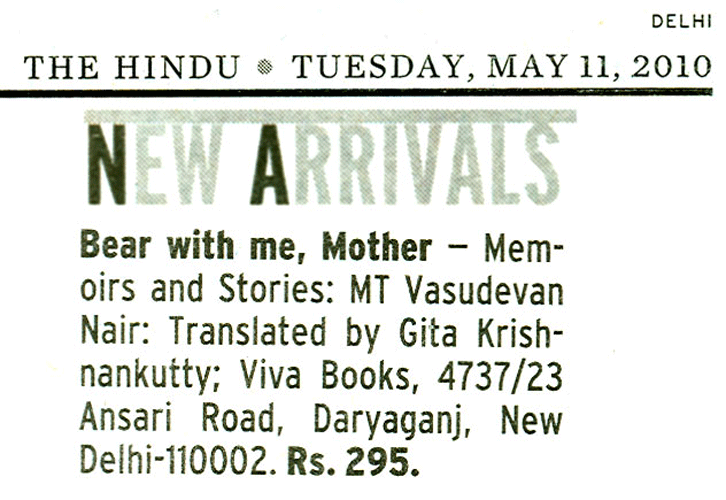 About the Authors:
M.T. Vasudevan Nair was born on 15 july 1933 in Kudallur village in Kerala and was the youngest of four brothers. He began to write very early in life, and his short story "Valarthumrigangal", written while he was a student at Victoria College, Palakkad, won the first prize in the World Short Story Competition conducted by the New York Herald Tribune.
He went on to win several literary awards, including the Central Sahitya Akademi Award for his novel Kaalam (1970); three Kerala Sahitya Akademi Awards: one for the novel Naalukettu (1959), the second for the play Gopuranadayil (1978) and the third for the short story "Swargam Thurakkunna Samayam" (1981). He was given the prestigious Jnanpith Award in 1995.
Vasudevan Nair has been associated with Malayalam cinema since 1965. He has directed six feature films, three documentaries and a television serial. He has written forty-one screenplays, and many films based on his screenplays have won national and state awards. His first film, Nirmalyam, which was written, produced and directed by him, won the President's Gold Medal in 1973. He won the National Award for the best screenplay thrice: for Oru Vadakkan Veeratha in 1989, Sadayam in 1990 and Parinayam in 1994, and the National Award for the best film twice: Kadavu in 1991 and Oru Cheru Punchiri in 2000. He was conferred the Padmabhushan by the Government of India in 2005.