STOCKS AVAILABLE
£24.99 (Rs2743.90)
Price after 10% discount=Rs 2469.51
GOC for one pound for the month September = Rs109.80
Neetan Chopra's (author) interview with Economic Times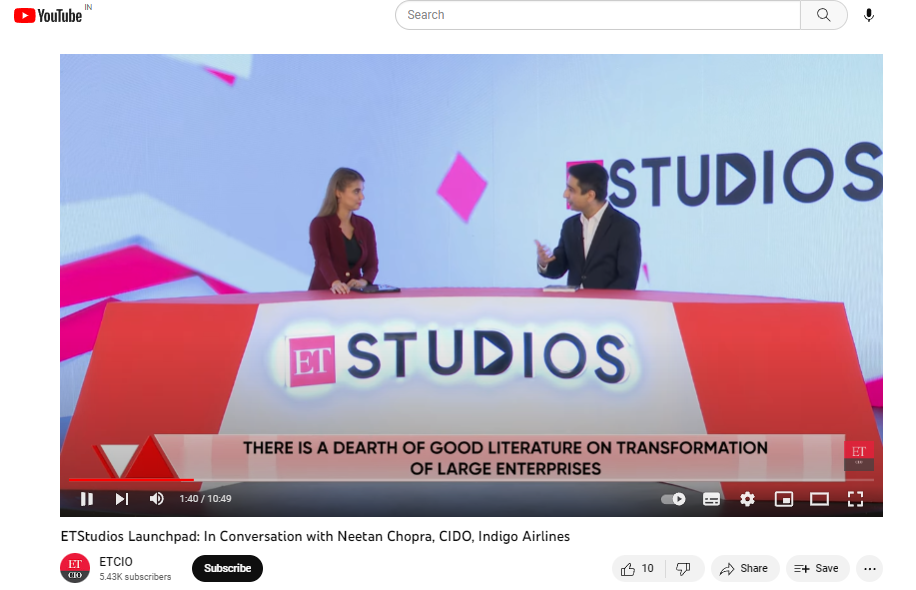 Reviews:
"An insightful, practitioners' guide full of pragmatic ideas and valuable learnings from decades of experience. A must-read for executives vying for industry leadership in digital."
—Joydeep Sengupta, Senior Partner, McKinsey & Company
"More than 80% of digital transformation projects fail inside large organizations not through lack of trying. Every organization looking to crack the code for success must read Neetan Chopra's book. By taking a practitioner's point of view, he draws from three decades of experience to provide a proven methodology known as the Honeycomb Framework. Accelerated Digital Transformation is a must-read book for digital leaders."
—R 'Ray' Wang, Founder and Chairman, Constellation Research
"We live in a time where the fog of technology is often overwhelming, difficult to dissect and changing so rapidly it becomes difficult to have confidence in our decision making.
Neetan Chopra takes the mystery out of creating successful digital transformations for companies and their clients in a way that brings light and clarity to an otherwise challenging process. The insights he has gathered through his years of technology experience provide the keys for those who are looking to unlock value during these extraordinary times."
—Tim Kobe, Founder and CEO, Eight Inc.
"Every enterprise must succeed on a digital journey to remain relevant, serve customers and add value. Accelerated Digital Transformation provides you with a pragmatic guide and framework to achieve progress and success. I appreciate Neetan Chopra's storytelling approach and many lessons of everyday role models delivering extraordinary customer service. These stories demonstrate the Uplifting Service ethos that earns customer praise and social media attention."
—Ron Kaufman, New York Times Bestselling Author, Uplifting Service: The Proven Path to Delighting Your Customers, Colleagues, and Everyone Else You Meet
"Only if one has lived through or, even better, driven digital transformation of a major company, can one seriously understand what it means to write a book about it that is worth reading. Neetan Chopra is exactly one of these few leaders who has lived through such digital transformations and knows exactly what it means, what works and what doesn't. Chopra's book is probably one of the very few books about digital transformation really worth reading, as it is not yet another consultant textbook, far remote from reality, but written by true experience and painful learnings."
—Patrick Naef, Managing Partner, Boyden
"Accelerated Digital Transformation deftly fuses practical examples and actionable insights from Neetan Chopra's vast digital experience, with deep foundational learning, borne out of his global academic pursuits. Chopra's storytelling approach, coupled with innovative interventions, such as co-authoring a chapter with an AI-bot, make the book both engaging and first-of-a-kind read. We highly recommend this book, for anyone looking to navigate the ever-evolving digital landscape and staying ahead of the game in the digital era."
—Prof Dr Reinhard Jung, Dean, School of Management, University of St Gallen & Prof Dr Ulrike Baumöl, Executive Director, Executive MBA HSG in Business Engineering, University of St Gallen
"Having seen firsthand how Neetan Chopra executes successful digital transformation where others have struggled, I am grateful he has taken the time to write down his framework. His deliberate 'cell by cell' strategy is what it takes to assess, learn and succeed in this complicated mix of technical, business and cultural transformation. And a bonus, he demonstrates learning with this framework by
co-authoring one chapter with an AI bot... brilliant!"
—Jana Eggers, CEO, Nara Logics
"All transformations, digital or otherwise, are in essence a human journey of change. I like Chopra's storytelling, a colloquial approach to the intimidating topic of digital transformation for business leaders. This will connect with people across all walks of life, demystifying what it takes to thrive in the digital era and create exponential outcomes. The six global experts, the honeycomb archetypes, provide an additional human touch, sharing their experiences and wisdom, using Chopra's Accelerated Digital Transformation as a platform. A must read."
—Raj Jain, Former CEO, Bennett Coleman & Co Limited (Times Group)
"Organizations need simple frameworks by which they can plan their digital transitions. Neetan Chopra's efforts on achieving this through a well thought out 'Honeycomb Framework' is commendable. His building blocks of digital transformation provide a succinct and clear framework through which readers can apply these in the context of their organizations. The future is about organizations which will survive and thrive in a digitally driven business ecosystem. Chopra's book will help organizations survive and thrive in a VUCA world.
—Krishnakumar Natarajan, Co-founder & Former Executive Chairperson, LTIMindtree
"Chopra's new book helps you reduce bad friction into a manageable hexagon comb while introducing good friction to sweeten the honey from digital transformation."
—Soon Yu, Author, Friction: Adding Value by Making People Work For It
Description:
Achieve successful digital transformation with this authoritative guide designed specifically for established organizations.
At a time where even the most recognized business models are under threat, organizations risk devastation if they do not transition successfully to the new digital reality. Yet what works for digital natives does not always work for established organizations. Recognized as one of the world's top global executives leading innovative transformation, Neetan Chopra's deep experience of steering organizations through digital disruption drives the practical approach of Accelerated Digital Transformation. Having designed transformation journeys, overcome setbacks and driven outcomes within multiple leading companies, Neetan Chopra tackles key factors for established organizations including inertia, impetus, outcomes, digital capabilities and culture.
The book is underpinned by a tried and tested framework that will guide readers step by step through the entire digital transformation journey. This will be an essential resource for leaders, managers and practitioners leading and executing digital transformation.
Target Audience:
This will be an essential resource for leaders, managers and practitioners leading and executing digital transformation.